Education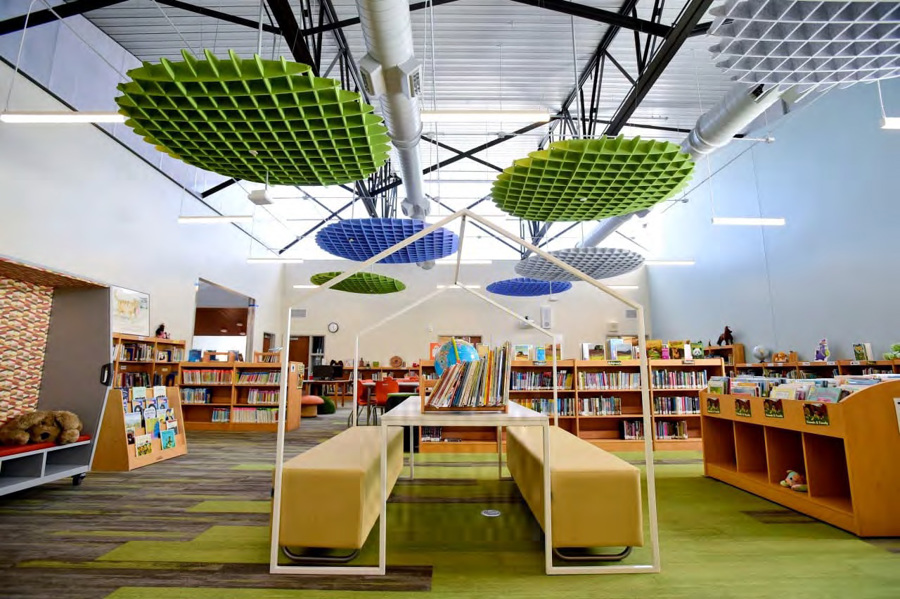 BEST IN CLASS
Creating spaces for learning that foster creativity, improve focus, and enhance the learning experience while exceeding health and safety requirements
INSPIRING ENVIRONMENTS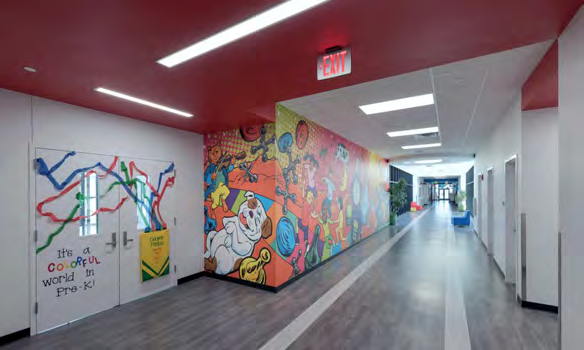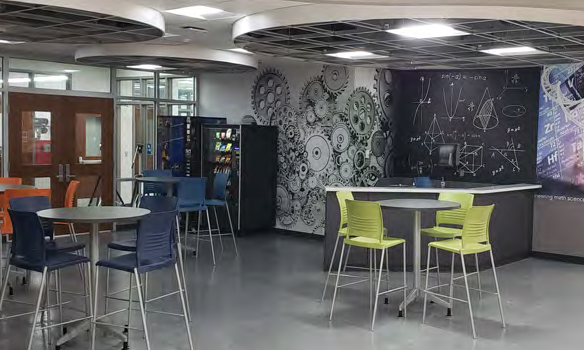 MDC understands the importance of creating a learning environment that inspires both students and faculty. Studies have proven that the selections of certain interior finishes can accelerate the learning process.
Interior designers in this field realize the right colors and patterns have the ability to deinstitutionalize educational facilities and balance their design concepts with the unique functional requirements of these environments.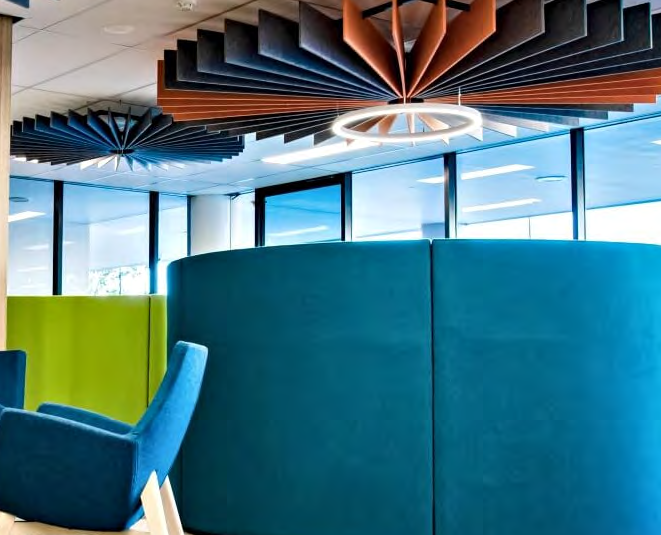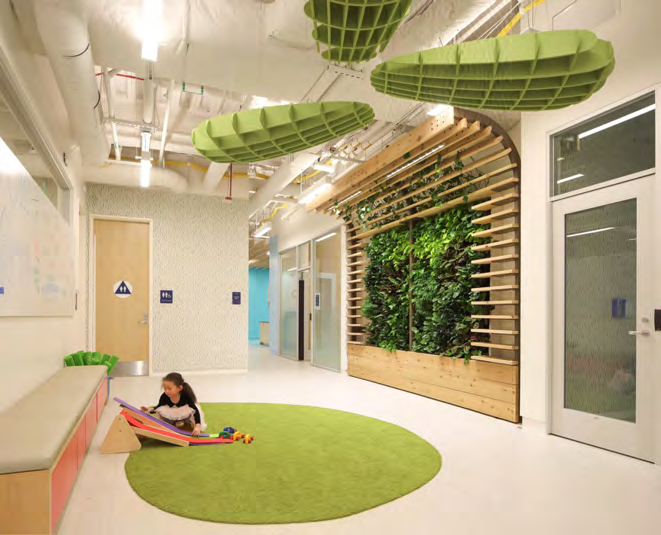 ZINTRA ACOUSTIC
Noise has detrimental effects upon students' performance at school, including reduced memory, motivation, and reading ability. These distractions are known to cause annoyance, irritation and fatigue. Reducing noise fosters learning and creativity.
Zintra Acoustic Solutions offer a variety of design options that provide exceptional noise reduction without compromising design aesthetics.
Zintra Acoustic Attributes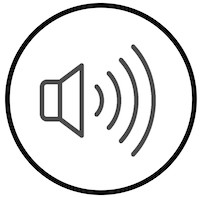 Noise Reduction Acoustic NRC ratings of 0.45 - 0.95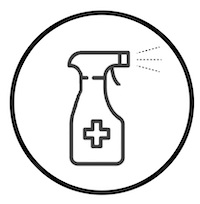 Safety Disinfect with 10% bleach / 90% water solution in accordance with the recommendations of the CDC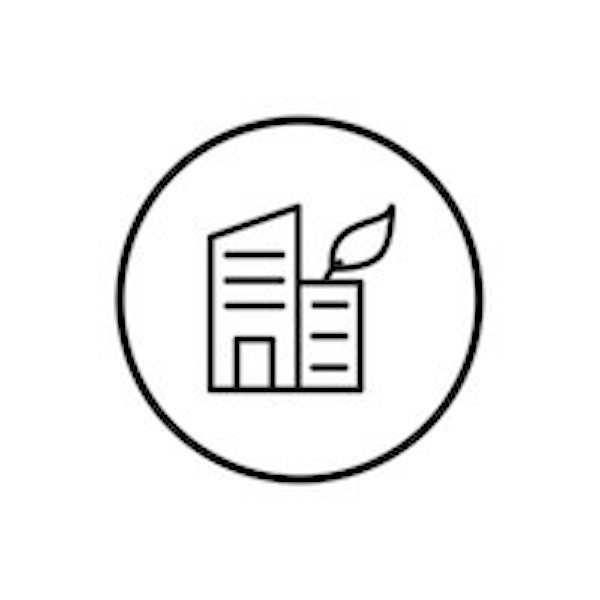 Low VOCs Indoor Air Quality provides improved environments for learning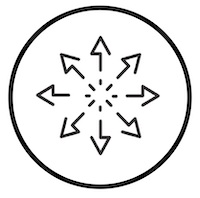 Versatile Wide array of wall, ceiling, and social distancing solutions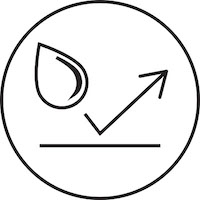 Repellency 100% Polyester. Zintra does not absorb any moisture or odors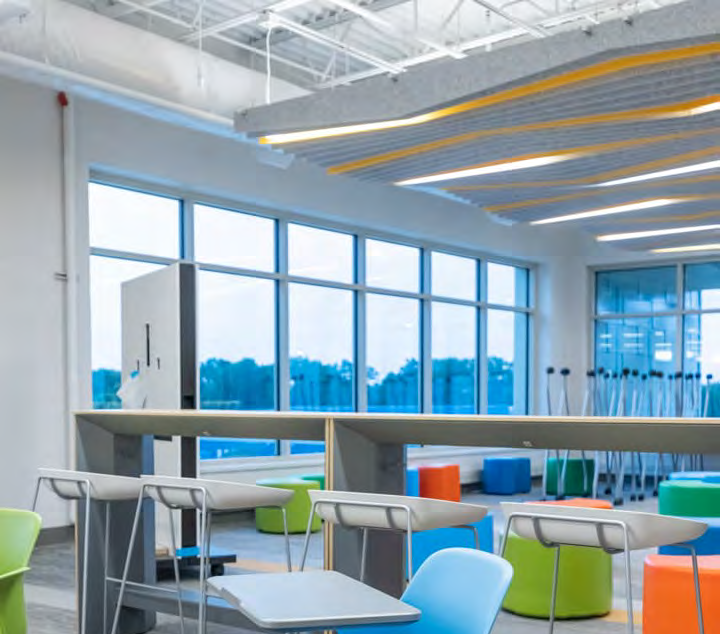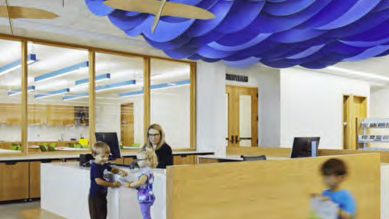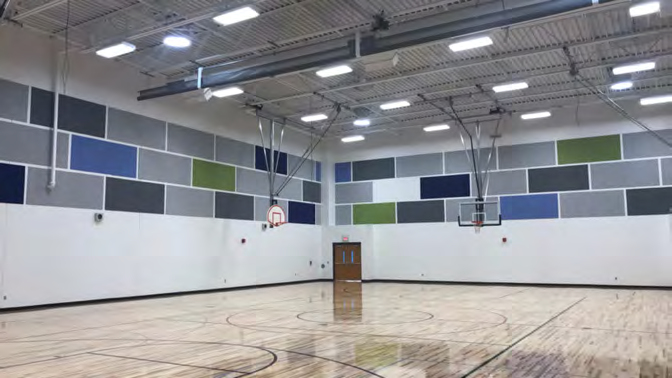 Browse Zintra Acoustic Solutions
SOCIAL DISTANCING
Add a safe division to educational spaces with our selection of social distancing options - ranging from benching units, desk dividers, sliding screens, and freestanding units.
Each available in a series of colors, shapes, and sizes, these acoustic dividers offer students an elevated sense of separation and privacy. For added safety, each of these space dividing solutions meets CDC requirements for disinfecting in educational facilities.
Social Distancing Attributes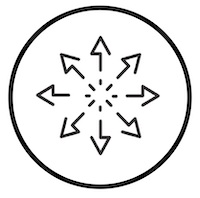 Versatile Easy to reconfigure, these acoustic systems provide division of space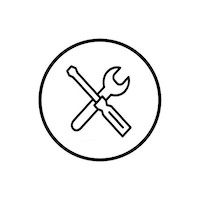 Toolless Assembly Engineered for ease of assembly on-site, without any tools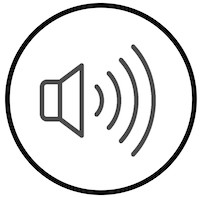 Noise Reduction Acoustic NRC ratings of 0.65 - 0.95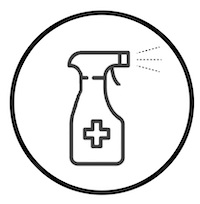 Safety Disinfect with 10% bleach / 90% water solution in accordance with the CDC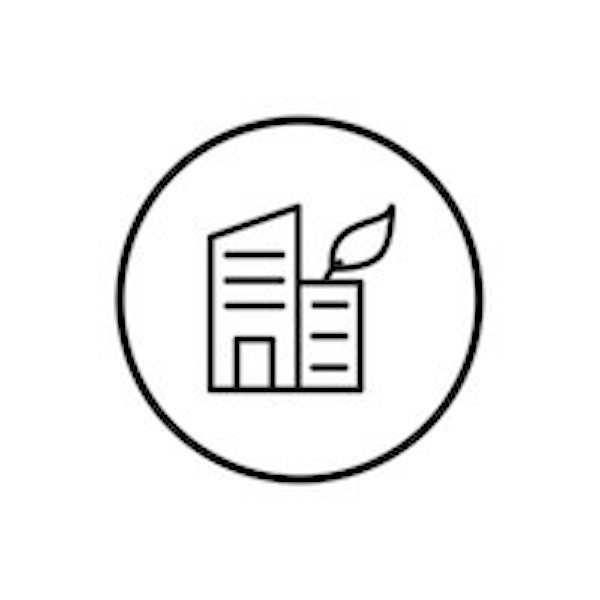 LOW VOC'S Indoor Air Quality provides improved environments for learning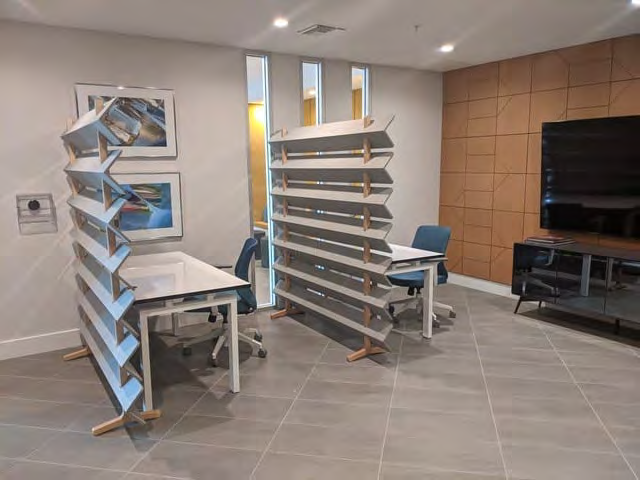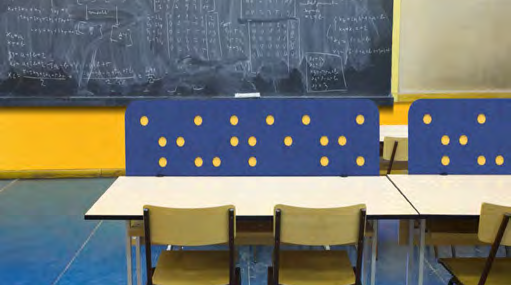 Browse Social Distancing
DIGITAL STUDIO
Designers looking to transform spaces and provide a creative environment need to look no further than MDC digital design solutions to inspire and engage students.
Our in house design consultants and cutting-edge fabrication enables you to make your design statement without sacrificing health and safety. Available in a multitude of substrates - MDC Digital Studio can meet your design, performance, and budget needs.
Digital Studio Attributes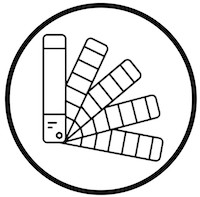 Aesthetics Unlimited customization with the most comprehensive suite of digital design capabilities.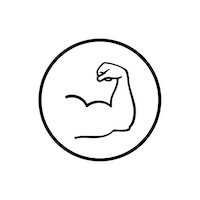 Durability High impact, chemical and stain resistance with digital FRP.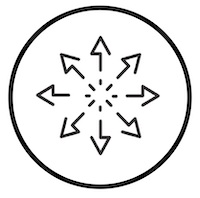 Versatile Wide variety of substrates to provide options throughout the facility.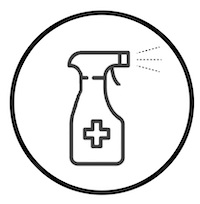 Safety Easy to clean and disinfect with hospital grade cleaners.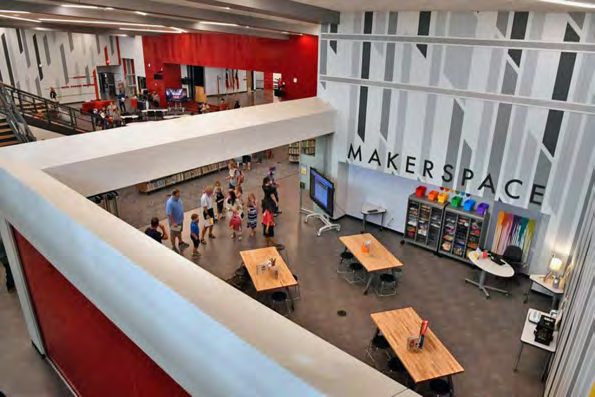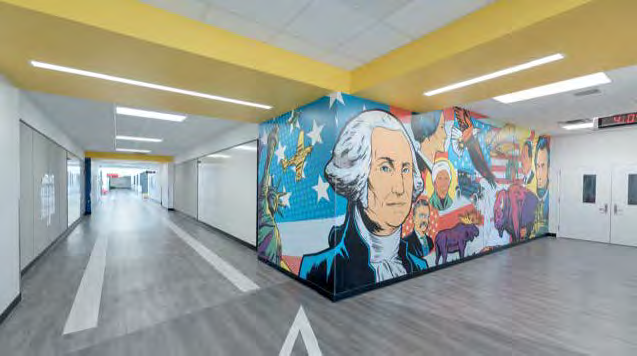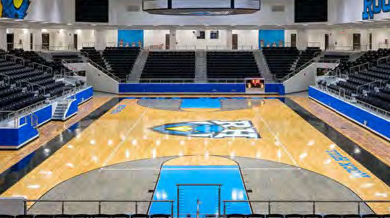 Browse Digital Studio
WALL PROTECTION
Duratec flexible wall protection has the aesthetics of a wallcovering and the performance features of rigid panels. Duratec is engineered to withstand scuffs, chemicals, and collision impact without showing visible signs of wear and tear. Ideal for use in your highest abuse areas.
Duratec Wall Protection Attributes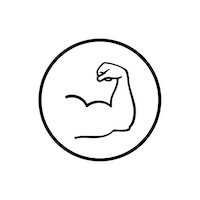 Durability High impact, chemical, and stain resistance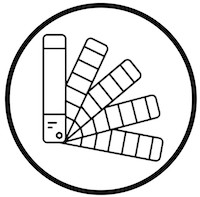 Aesthetics Available in a variety of patterns, textures, and colors, as well as digital selections, so your space will always look as beautiful as it is strong.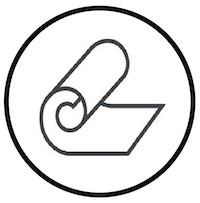 Flexible Lightweight and flexible, Duratec can be installed on curved surfaces, floor to ceiling walls or railroaded under trim for 60' of seamless wall protection.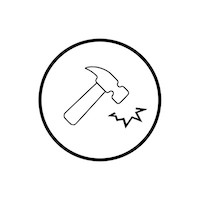 Impact Resistant Provides the aesthetics of a decorative wallcoverings with the strength and durability of rigid sheets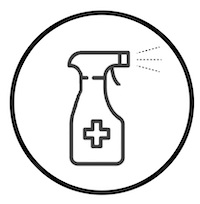 Safety Easy to clean and disinfect with hospital grade cleaners. Meets CDC guidelines for disinfection and sterilization in education spaces.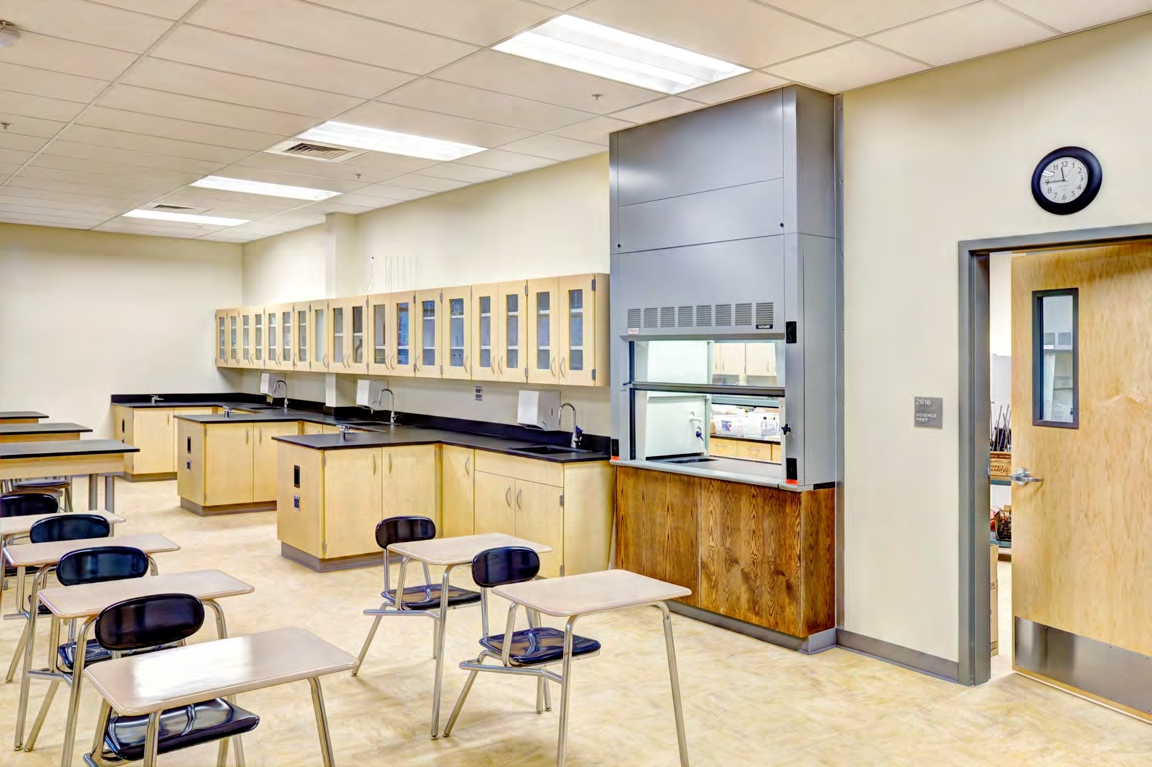 MDC's Fiberglass Reinforced Plastic (FRP) panels are expertly engineered to not only withstand wet environments, but also those environments exposed to higher rates of collision impact. Completely washable, wipeable, and easy to clean & disinfect, our panels promise low maintenance paired with high style.
Digital FRP Attributes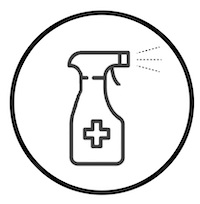 Safety Easy to clean and disinfect with hospital grade cleaners. Meets CDC guidelines for disinfection and sterilization in education spaces.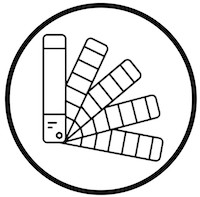 Aesthetics Clear or white FRP sheets with a selection of over 100 existing designs as well as custom capabilities.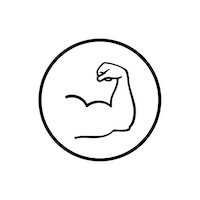 Durability Extremely durable. Stain, abrasion, and impact resistance make digital FRP the ideal wall protection solution for high traffic areas.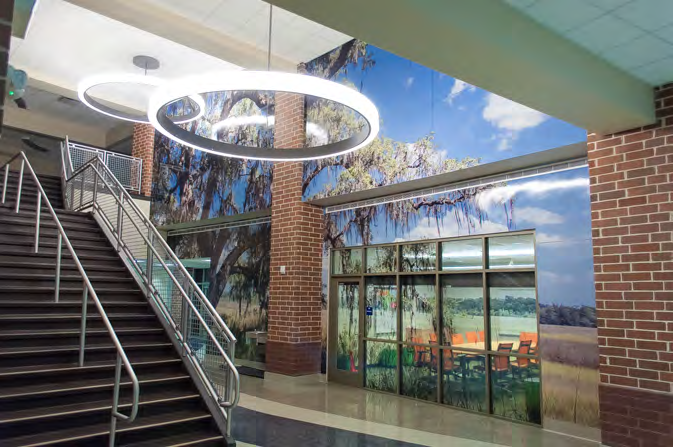 Browse Wall Protection
DIMENSION WALLS & CEILINGS
Textured, decorative, impact resistant, wall and ceiling panels add visual interest combined with disinfecting and ease of maintenance within your education space
Dimension Walls panels are available in an endless array of textures and colors. Panels can be applied to flat or curved surfaces, walls, columns, ceilings, and more. Lower-profile textures in solid colors provide maximum durability for high traffic areas.
Dimension Walls Attributes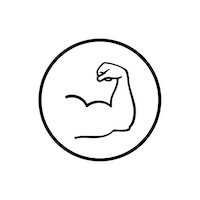 Durability Impact, chemical, & stain resistant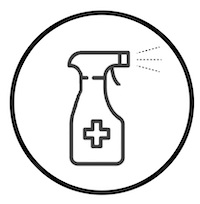 Safety Easy to clean and disinfect with hospital grade cleaners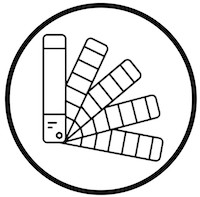 Aesthetics Thousands of combinations of finish, color, and texture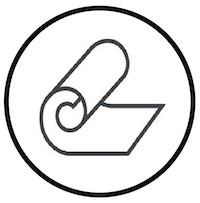 Flexible Lightweight and flexible for ease of shipping, handing, and installation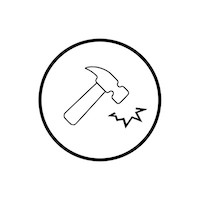 Impact Resistant Low profile textures in solid colors can withstand repeated contact and abrasion in heavy traffic areas.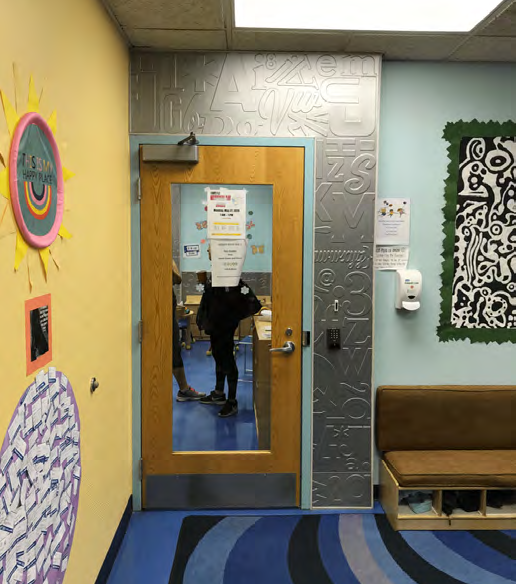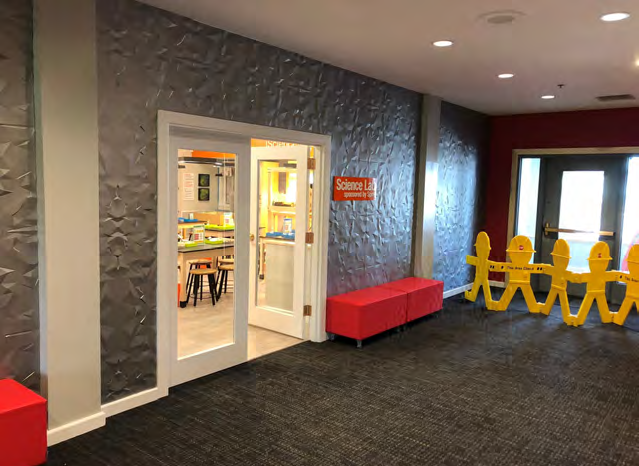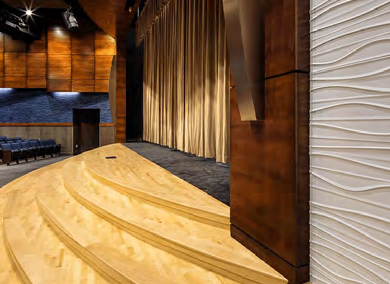 Browse Dimension Walls & Ceilings
DRY ERASE GLASS
Modernize Learning Spaces. Glass boards provide a clean, sophisticated take on the standard communication board lending a fresh, current feel to any space.
Dry Erase Glass Attributes

Guarantee Lifetime warranty on the highest performing dry erase surface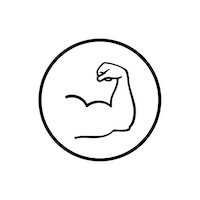 Durability MDC Tempered Glass is over four times stronger than traditional glass boards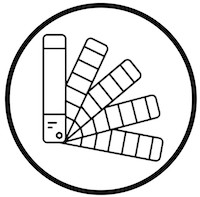 Aesthetics Available in 8 colors across numerous standard board sizes as custom sizes as well and shapes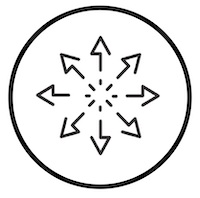 Versatile Steel backing option allows for dual use as a dry erase & magnetic surface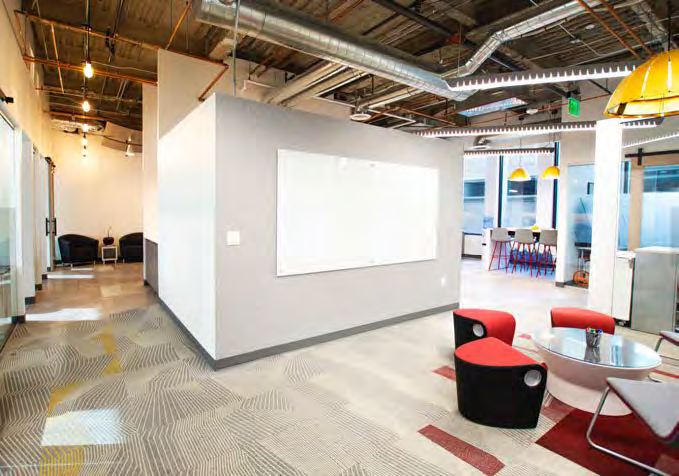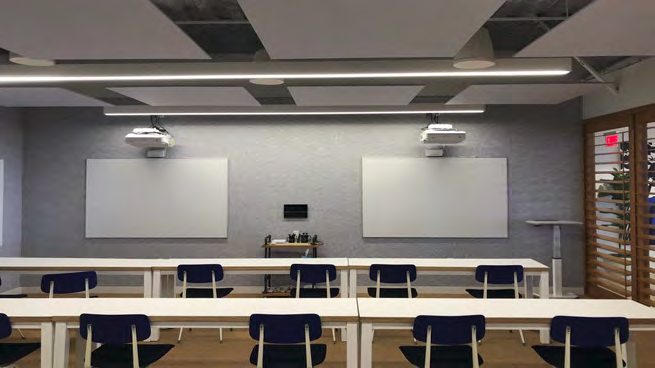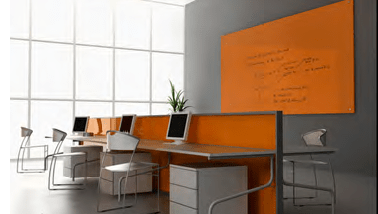 Browse Dry Erase Glass
DRY ERASE WALLCOVERING
Limitless possibilities for collaborative communication. MDC dry erase wallcoverings install horizontally to cover walls, columns, curved surfaces and more.
Dry Erase Wallcovering Attributes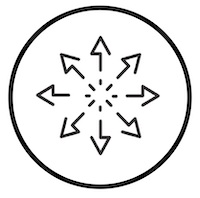 Versatile Available in standard, low gloss, magnetic and projection dry erase options

ADA Compliant Apply floor to ceiling to maximize writing area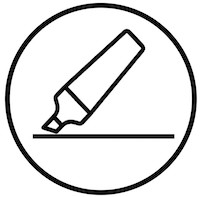 Functionality Smooth, consistent finish is ready to use as a writable surface immediately after installation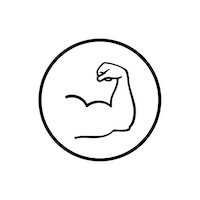 Durability High quality construction ensures the dry erase surface will not crack, peel, or experience decreased performance over time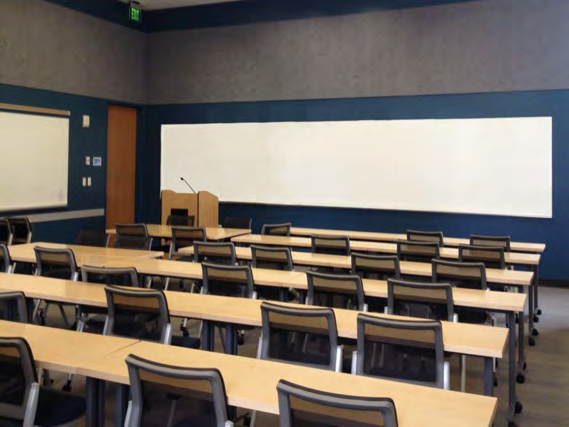 Browse Dry Erase WallCovering
DRY ERASE PAINT
Convert nearly any surface into a center for creativity and collaboration with FUZE high performance, low VOC, low odor, dry erase paint.
Dry Erase Paint Attributes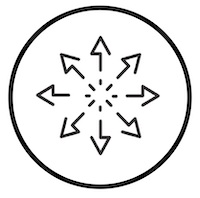 Versatile Effortlessly applies over multiple smooth surfaces - walls, columns, chalkboards, wood, metal, and more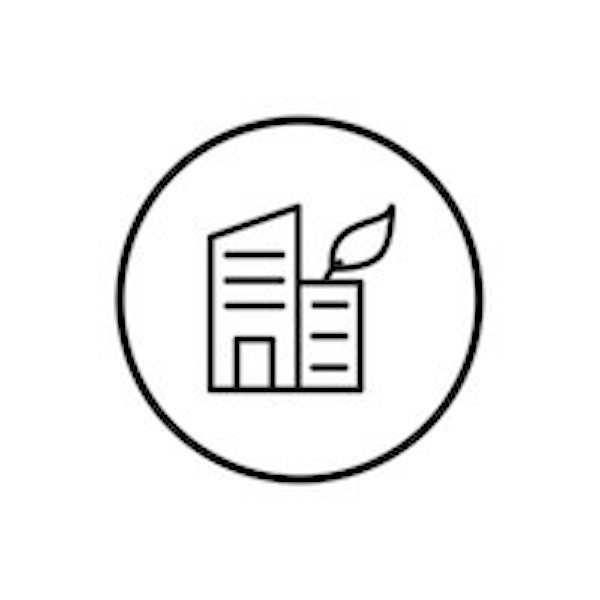 Low VOCs Low Volatile Organic Compound (VOC) content of less than 100 grams per liter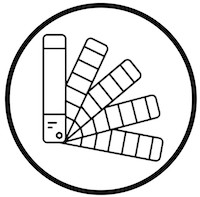 Aesthetics Available in white as well as a clear finish, suitable for application over colored paint, metal, wood, and more

Transform Apply FUZE over existing chalkboards to update surfaces to modern collaboration spaces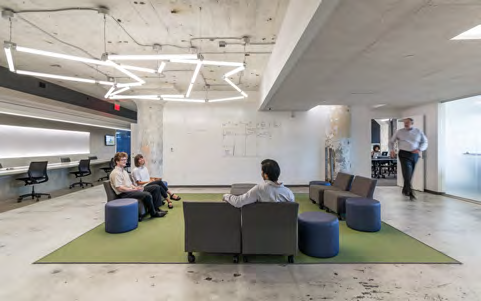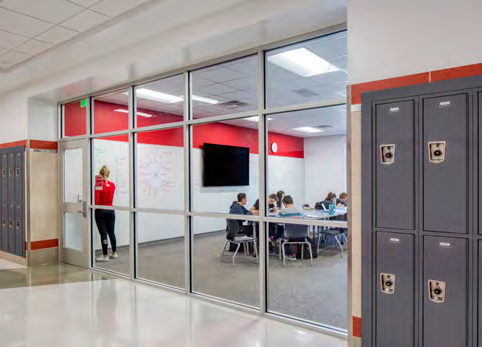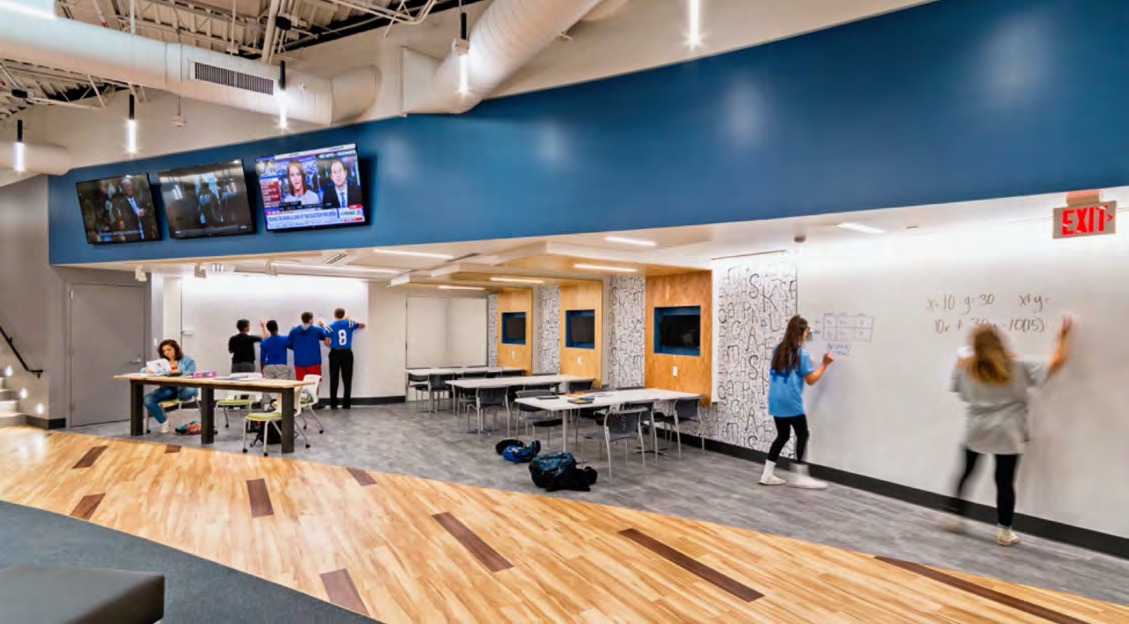 Browse Dry Erase Paint
TACKABLE ACCESSORIES
Cork is a truly renewable resource, made from the regenerating bark of the oak tree. The unique qualities of cork make it not only a great tackable surface, but an effective acoustic and decorative wall finish as well.
Natural Cork Attributes
100% natural cork, 1/4" thick
LEED Compliant MRc6 Rapidly Renewable Material
LEED Compliant MRc7 FSC Certified
Biodegradable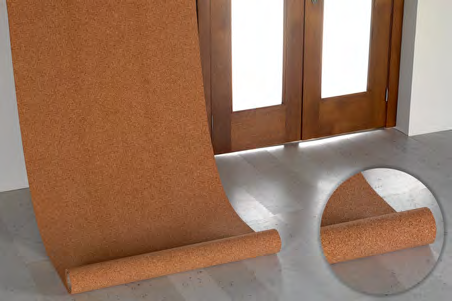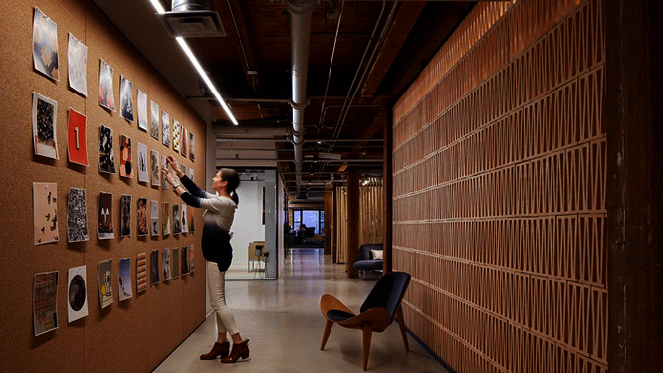 Linoleum Cork Wallcovering is the ideal material for pin boards, notice boards and all other surfaces where ideas and information are exchanged.
Linoleum Cork Attributes
All natural tackable solutions
Resilient and flexible
Hygienic and bacteriostatic
Long lasting, timeless and strong
Self Healing
Natural and renewable raw materials. A combination of oxidized linseed oil, rosin
Specifications
Width: 48"
Thickness: 48"
Roll Length: 1/4"
Backing: 90 lineal feet (approximate) Jute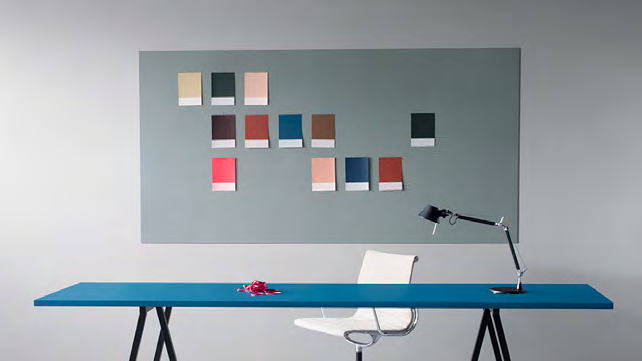 Browse Tackable Accessories
INSPIRATION GALLERY
Education